As a home inspector, we often say that "water" is your home's worst enemy.  Generally we are speaking about the weather shield that includes your roof, walls and windows.  But, water let loose in your home from plumbing can be just as devastating.  Unprotected pipes are susceptible to cold temperatures because water expands when it goes from liquid to solid.  If you have not taken time already, take a few minutes this weekend, before the next cold blast comes through, to go around your home and make sure that you are taking the necessary precautions to avoid a water damage bill. Here are some tips to get your plumbing through the winter in one piece.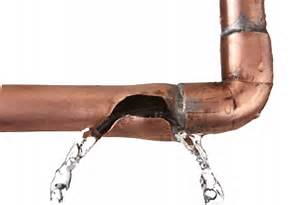 Tips
Make sure any exposed water pipes are properly insulated.  Insulation alone does not prevent freezing but only slows it down.  Outdoor back flow preventer valves for sprinkler systems should be drained of water and have a plugged in heat tape installed.
Water hoses should be disconnected from hose bibs (and stored indoors if possible).  If the hose bibs are not freeze resistant, install an inexpensive foam cap from a hardware store.  I've even seen socks wrapped around the bib, tied with a rubber band and covered with a coffee can (don't laugh; it works!).
Locate the main water shut-off valve, usually by the street.  Obtain the proper tool to open the valve vault and turn off the water if you need to in case of an emergency. There is often an interior water shut off valve that may be easier to access.  This information should be in your home inspection report if you have one from Home Run Inspections.
Other Good Ideas
Garage doors should be kept closed, especially if there are water supply lines in the garage.  This is often where your hot water tank is located.  You may want to safely place a space heater in the garage on really cold nights.  Remember that your garage ceiling is generally not insulated.
Open kitchen and bathroom cabinet doors to allow warmer air to circulate around the plumbing. Be sure to move any harmful cleaners and household chemicals up out of the reach of children.
When the weather is very cold outside, let the cold water drip from the faucet served by exposed pipes. Running water through the pipe – even at a trickle – helps prevent pipes from freezing.  Dripping a faucet in the spare bathroom bathtub and the kitchen faucet should do the trick.
Keep the thermostat set to the same temperature day and night. By temporarily suspending the use of lower nighttime temperatures, you may incur a higher heating bill, but you can prevent a much more costly repair job if pipes freeze and burst.
If you will be going away during cold weather, leave the heat on in your home, set to a temperature no lower than 55° FHome Run Inspections, LLCOklahoma:

 

405-905-9175

Florida:  850-203-3239

We Cover All the Bases!

Serving the Oklahoma City metro and surrounding areas including Edmond, Yukon, Piedmont, Bethany, El Reno, Tuttle, Mustang, Moore, Norman, Midwest City, Del City, Choctaw, McCloud, Shawnee, Harrah, Newalla, Jones, and more.

Also Now Serving the Florida Panhandle metro areas including Destin, Fort Walton Beach, Okaloosa Island, Miramar Beach, Santa Rosa Beach, Niceville, Shalimar, Freeport, Crestview, DeFuniak Springs, Panama City Beach, and more.

Schedule Your Inspections Online at:

Like us on FaceBook

Follow us on Twitter

Follow us on Instagram