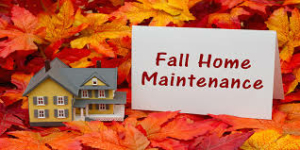 When Fall arrives its time once again for Fall Home Maintenance.  Here is a quick list to get you started:
Have a Licensed HVAC Pro Service Heating System
Replace HVAC Filter
Protect Exposed Plumbing from Freezing Temperatures
Run Gas-powered Lawn Equipment until the Fuel is Gone
Test Emergency Generator
Have a Certified Chimney Sweep Inspect & Clean Flues & Check Fireplace Dampers
Remove Bird Nests from Chimney Flues & Outdoor Electrical Fixtures
Seal Air Leaks
Clean Gutters
Inspect Roof
Inspect Gas Space Heaters
Set Up a Humidifier
Repair Walkways, Seal Cracks
Check Smoke & Carbon Monoxide Detectors
Check Fire Extinguishers & Fire Escape Plan
General Clean-Up
Prep Lawn
Touch Up Exterior Paint
Clean Carpeting
Remember to take a moment before starting machinery or climbing a ladder to think about safety. A few hours of preparation can save you and your family some misery this winter, not to mention some money
Home Run Inspections, LLC
Oklahoma:  405-905-9175
Florida:  850-203-3239
We Cover All the Bases!
Serving the Oklahoma City metro and surrounding areas including Edmond, Yukon, Piedmont, Bethany, El Reno, Tuttle, Mustang, Moore, Norman, Midwest City, Del City, Choctaw, McCloud, Shawnee, Harrah, Newalla, Jones, and more.
Also Now Serving the Florida Panhandle metro areas including Destin, Fort Walton Beach, Okaloosa Island, Miramar Beach, Santa Rosa Beach, Niceville, Shalimar, Freeport, Crestview, DeFuniak Springs, Panama City Beach, and more.
Schedule Your Inspections Online at:
Like us on FaceBook
Follow us on Twitter
Follow us on Instagram