Improper Installation
When we identify improper installation of a home's system or fixture, we include it in the inspection report as a recommendation with photos (and video when applicable) and an explanation of who, what and why. For example, we might recommend to have a qualified professional repair the improper installation to restore proper functionality, to prevent damage to materials, and/or for personal safety. Inspectors do not diagnose problems, and we do not determine the method of repair.  We leave those tasks to the qualified professional making the repair.
This dryer vent is a good example of improper installation (see photo).  The dryer vent is functional, but it is not properly installed.  The white dryer vent cover/louver should be flush with the masonry siding and sealed around the edges to prevent moisture and pest intrusion.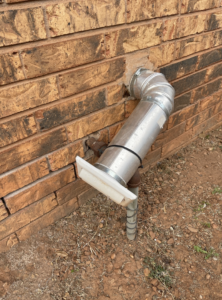 Inspecting Homes
Inspecting homes is an art form. Inspectors look for defects in home systems including improper installation. We get loads of training initially for licensing as well as continuing education annually.  I have found a lot of the classroom training to be very beneficial, but nothing beats the on-the-job experience.
Inspecting a home and all its various systems is a big job.  It can be intimidating to try to catch all the things that may be wrong with a home. After about 100 inspections, an inspector starts to see patterns.  Improperly installed systems start to jump out at us.
Having an experienced Home Inspector give your potential new home a good inspection is invaluable.  You will receive a wealth of information including recommendations for problems that need to be addresse
Home Run Inspections, LLC
Oklahoma:  405-905-9175
Florida:  850-203-3239
We Cover All the Bases!
Serving the Oklahoma City metro and surrounding areas including Edmond, Yukon, Piedmont, Bethany, El Reno, Tuttle, Mustang, Moore, Norman, Midwest City, Del City, Choctaw, McCloud, Shawnee, Harrah, Newalla, Jones, and more.
Also Now Serving the Florida Panhandle metro areas including Destin, Fort Walton Beach, Okaloosa Island, Miramar Beach, Santa Rosa Beach, Niceville, Shalimar, Freeport, Crestview, DeFuniak Springs, Panama City Beach, and more.
Schedule Your Inspections Online at:
Like us on FaceBook
Follow us on Twitter
Follow us on Instagram