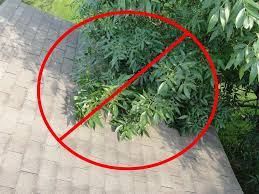 Landscaping
One of my first task on a home inspection is to inspect the roof and the exterior of the home.  Consequently, I often have to mention overhanging tree limbs, shrubs, or another aspect of the landscape rubbing up against the exterior of the home as a needed repair.
Well-maintained landscaping and other improvements are important for the enjoyment of a healthy and durable property.
Plants, Trees & Shrubs
Check the location and condition of all trees and shrubbery. Those that are overgrown should be pruned or trimmed. Where trees or bushes have overgrown, complete removal may be necessary. Trees need to be trimmed.  Overhanging branches should not interfere with a chimney's draft, be too close to utility wires, or deposit leaves and twigs on the roof or inside gutters and drains. Trees and shrubbery that are very close to exterior walls or roofs can cause damage. They can make it difficult to perform homeowner maintenance, inspections and repairs. Branches around the perimeter of the house should be pruned back. Tree roots under concrete walks can cause damage. Roots are usually exposed near the surface and can be cut back. Tree roots can cause a home's foundation to crack by pushing against it from the outside. If you have any of these issues, consider hiring an arborist. An arborist is a specialist in the cultivation and care of trees and shrubs, including tree surgery, the diagnosis, treatment, and prevention of tree diseases, and the control of pests.
Find a certified arborist in the U.S. at http://www.nachi.org/go/arborists and http://www.nachi.org/go/caforests in Canada
Home Run Inspections, LLC
Oklahoma:  405-905-9175
Florida:  850-203-3239
We Cover All the Bases!
Schedule Your Inspections Online at:
Like us on FaceBook
Follow us on Twitter
Follow us on Instagram