Locating Your Water Shut-Off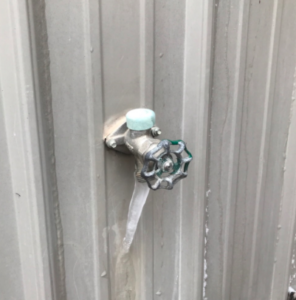 When temperatures rise above freezing,  a significant number of water plumbing problems will show themselves.  When or if they do in your home, you will need to know where the water shut-off to your home is located. Due to the number of problems this deep freeze is going to cause, it might be a while before you can get that repair done.  It is a good idea to get the phone number handy for a local, reputable plumber just in case.
Hopefully you already have an idea of where the water shut-off is located.  If you had your home inspected by Home Run Inspections LLC, you got that information from your inspector at the end of your inspection and also have that information in your inspection report.  If you cannot locate your inspection report or email with the inspection report link, give us a call, and we can re-send that to you.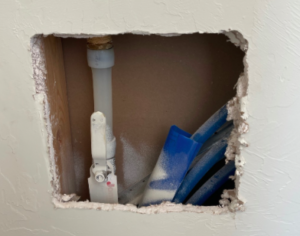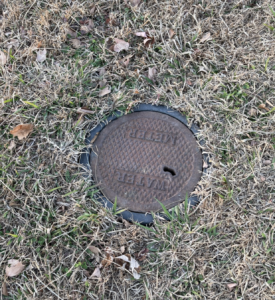 Possible Locations
Let's explore some possible locations.  Fortunately, in many modern homes, it is located on the interior of your home.  Better yet, interior water shut-offs typically require no special tools to operate them. Handles are, in older homes, like that on an exterior hose spigot.  Newer interior valves have a handle that you grab and move about 1/4 turn to the right.
Possible Locations:
Street Side Meter Vault
Garage
Laundry/Utility Room
Under the Kitchen Sink
Under the Bathroom Sink
Hallway Closet
Front Bedroom Closet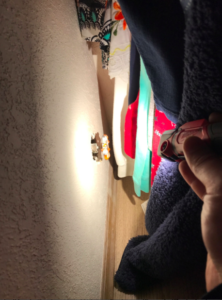 The valve handle may be readily visible, or it may be behind a wooden or plastic door.  These doors are typically located about 12″ above the floor. Although, I have seen them at eye level when the valve is part of what is called a plumbing manifold.
If you have well water, the shut-off valve will be at the well equipment or you can shut water supply off by turning off power to the well head itself.  This breaker is usually located at the electrical panel which is typically located in the garage or on an exterior wall.  It can be located at the well equipment itself if the equipment is in an exterior structure.
Even if you are fortunate enough to have an interior water shut off that you can access from the comfort of your home without a tool,  your main water shut off is typically streetside at the front of your home.  For a lot of home owners, this is the only water shut off available.  To access this vault, you will need a tool referred to as a church key or water meter vault key.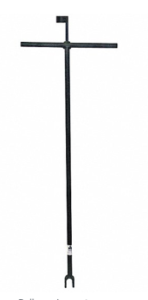 Tools Needed
The top of this very cool tool looks similar to a flag and is the part that is used to open the lid.  Simply insert and turn. Sometimes you can just lift it off.  Others will require a little finesse to get the mechanism to release the lid.  The U-shaped attachment at the end of the tool. is used to turn the valve at the bottom of the vault.  Fit the attachment on the top of the valve. Then, using the top handles, turn the valve (typically to the right) until you feel a stop.  You should leave a faucet or tub running before going to turn this valve off.  This will allow you to see the meter running at the beginning and then to see it stop when you have successfully closed the valve.
Of course, this process may be above the scope of what you or any member of your household may be able to accomplish.  In that case, call your local water company, advise them of the problem, and they will have someone come out to shut off the water for you.
Hopefully you have found this article helpful.  If so, be sure and share it with friends and family that may find it helpful as well.  At Home Run Inspections LLC, we understand that owning a home is a big responsibility. We do our best at every inspection to help our clients better understand not only any problems that the home may currently have, but also how to manage problems that will likely occur while they enjoy life in the home they have chosen.
At Home Run Inspections we make it easy to get your inspections done. Schedule your inspection online today!
Home Run Inspections, LLC
Oklahoma:  405-905-9175
Florida:  850-203-3239
We Cover All the Bases!
Serving the Oklahoma City metro and surrounding areas including Edmond, Yukon, Piedmont, Bethany, El Reno, Tuttle, Mustang, Moore, Norman, Midwest City, Del City, Choctaw, McCloud, Shawnee, Harrah, Newalla, Jones, and more.
Also Now Serving the Florida Panhandle metro areas including Destin, Fort Walton Beach, Okaloosa Island, Miramar Beach, Santa Rosa Beach, Niceville, Shalimar, Freeport, Crestview, DeFuniak Springs, Panama City Beach, and more.
Schedule Your Inspections Online at:
Like us on FaceBook
Follow us on Twitter
Follow us on Instagram