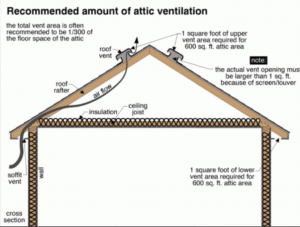 At first it may seem odd to add insulation to the attic warmth and then purposely allow cold air (Attic Ventilation) to enter the attic through vents, but this combination is the key to a durable and energy-efficient home. Here's why: in the winter, allowing a natural flow of outdoor air to ventilate the attic helps keep it cold, which reduces the potential for ice damming (snow that melts off a roof from an attic that is too warm and then re-freezes at the gutters, causing an ice dam that can damage the roof). Proper insulation and air sealing also keeps attics cold in winter by blocking the entry of heat and moist air from below.
In the summer, natural air flow in a well-vented attic moves super-heated air out of the attic, protecting roof shingles and removing moisture. The attic insulation will resist heat transfer into the house.
The most common mistake homeowners make when installing insulation is to block the flow of air at the eaves. NEVER COVER ATTIC SOFFIT VENTS WITH INSULATION — use rafter vents and soffit vents to maintain airflow
Home Run Inspections, LLC
Oklahoma:  405-905-9175
Florida:  850-203-3239
We Cover All the Bases!
Serving the Oklahoma City metro and surrounding areas including Edmond, Yukon, Piedmont, Bethany, El Reno, Tuttle, Mustang, Moore, Norman, Midwest City, Del City, Choctaw, McCloud, Shawnee, Harrah, Newalla, Jones, and more.
Also Now Serving the Florida Panhandle metro areas including Destin, Fort Walton Beach, Okaloosa Island, Miramar Beach, Santa Rosa Beach, Niceville, Shalimar, Freeport, Crestview, DeFuniak Springs, Panama City Beach, and more.
Schedule Your Inspections Online at:
Like us on FaceBook
Follow us on Twitter
Follow us on Instagram