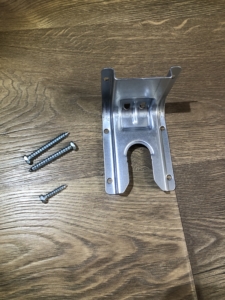 People often wonder "what do they look for in a home inspection?". Well, as home inspectors, we inspect all the major systems of the home. A very important section of any Home Inspection Report is the Appliance section. An easily installed safety device called the anti-tip bracket often shows up in the home inspector's list of recommendations or deficiencies.
What Is It?
The anti-tip bracket should be installed on all free-standing ranges. All new free-standing ranges come with this device along with instructions on how to install it properly. In fact, we often find it stored in a kitchen drawer! A properly installed anti-tip bracket will prevent the range from tilting forward and tipping over.
Why Have It?
There are many scenarios in which this disaster could take place. One of the most common could occur when pulling a large, heavy meal forward on the oven rack such as a holiday turkey. This added weight could cause the range to tilt forward and tip over, endangering anyone in the immediate area. Other scenarios include a child crawling onto an opened oven door or an elderly person falling forward while trying to lift a cooked dish.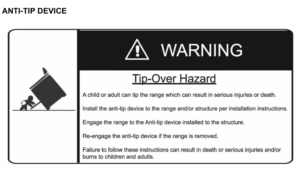 What To Do
As home inspectors, we call out deficiencies like this all the time. We do so because we know the importance of these safety features. Install the anti-tip bracket on your free-standing range immediately if it is missing. You can buy the anti-tip bracket in most hardware stores, but be sure to check your kitchen drawers for it first; it may be lurking there! The anti-tip bracket can be easily installed using items often found in the most basic tool kits:  a pencil, a measuring tape, and a screw driver or power drill. If desired, a handyman or appliance installation & repair professional can get the job done for you.
Contact us if you have questions or if you need to schedule a home inspection; we're here for you!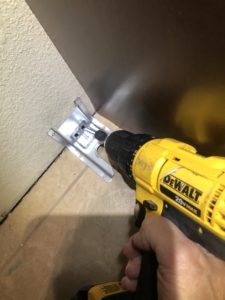 Home Run Inspections, LLC
Oklahoma:  405-905-9175
Florida:  850-203-3239
We Cover All the Bases!
Serving the Oklahoma City metro and surrounding areas including Edmond, Yukon, Piedmont, Bethany, El Reno, Tuttle, Mustang, Moore, Norman, Midwest City, Del City, Choctaw, McCloud, Shawnee, Harrah, Newalla, Jones, and more.
Also Now Serving the Florida Panhandle metro areas including Destin, Fort Walton Beach, Okaloosa Island, Miramar Beach, Santa Rosa Beach, Niceville, Shalimar, Freeport, Crestview, DeFuniak Springs, Panama City Beach, and more.
Schedule Your Inspections Online at:
Like us on FaceBook
Follow us on Twitter
Follow us on Instagram