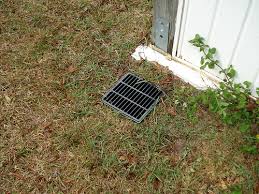 As a home inspector in Oklahoma I see these these french drains a lot.  I usually find them around homes that are built on a relatively flat lot, or at a point at which water needs to be taken away to avoid intrusion into a home or a feature such as a patio.  You may be surprised to hear this from a Home Inspector, but I am genuinely happy when I get to do an inspection during a heavy rain or just afterwards.  It gives me a better chance of ensuring that I catch any drainage problems the homes property may have that my client should be aware of.
Usually when I see these grates, which come in a variety of shapes and sizes, they are filled with debris.  This is their purpose, to catch debris before it enters into the drain pipe system and leads to a clog.  Best case scenario, the drain pipe takes the water to the street and to a main neighborhood drain, but this is not always the case.  Unfortunately, I often can find no evidence of where the drains lead to.
The bottom line is; french drain systems are like any other drain. In order for them to function properly they need to be kept clear of debris.  If you have drains like these or others, pay attention next time you get some good rainfall and see if they are doing their job.  If they are not, clear away any obstructions that you can gain access to.  Should the problem persist, I recommend you gave the drains cleaned professionally by a plumber using a power-feed drain cleaner.  If you fancy yourself or someone in the family as handy with tools like this, they can be rented at your local big box store for a reasonable fee.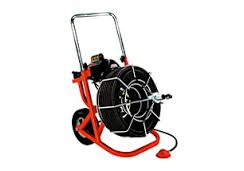 Like any other home maintenance project, the longer you prolong the repair of these drains, the more costly the fix is likely to be.  I've seen homes requiring literally thousands of dollars in foundation repair as a result of roof drainage that could have been easily upgraded for less that $50 bucks when the problem first started
Home Run Inspections, LLC
Oklahoma:  405-905-9175
Florida:  850-203-3239
We Cover All the Bases!
Serving the Oklahoma City metro and surrounding areas including Edmond, Yukon, Piedmont, Bethany, El Reno, Tuttle, Mustang, Moore, Norman, Midwest City, Del City, Choctaw, McCloud, Shawnee, Harrah, Newalla, Jones, and more.
Also Now Serving the Florida Panhandle metro areas including Destin, Fort Walton Beach, Okaloosa Island, Miramar Beach, Santa Rosa Beach, Niceville, Shalimar, Freeport, Crestview, DeFuniak Springs, Panama City Beach, and more.
Schedule Your Inspections Online at:
Like us on FaceBook
Follow us on Twitter
Follow us on Instagram