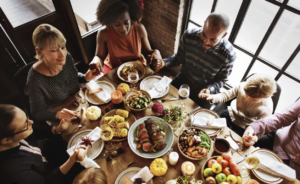 Traditions
Like all cultures around the world, America has a lot of traditions.  These rituals run deep in our culture and are strongly reflected in our holiday movies that we watch at this time of year.  A message that runs through all of them is the need to be at home for the holidays.  Home and family provide us with some of the most stressful times in our year as well as some of the most heartwarming and memorable.
Being home for the holidays means traveling for many as families come together.  This special time may be the only time of the year family members spend time with each other in the same room, and there are lots of opportunities for mishaps. Fortunately, with some planning, most of these can be avoided.
Play it Safe
Here are a few tips, from a home inspector's point of view, to ensure the memories you make this holiday season will be the ones you intended to make:
Fireplace:  If you are going to use your fireplace, make sure it is safe to use, clean and well-maintained.  For decorative or  gas logs, be sure to follow manufacturer's instructions.
Children:  Keep small children away from the hazards of a wood-burning or decorative fireplace. Guests visiting your home may need some fireplace education and supervision.
Decorations:  Make sure holiday decorations are placed well away from any heat source.
Extension Cords:  Avoid using extension cords, especially on the interior of the home.
Cooking:  Clean your range cook-top and oven so they are safe to use.  Keep small children away from the range area while cooking. Click HERE for more information about the anti-tip device that should be installed on your range.
Take Care of Yourself:  Don't over do it.  As you are getting ready for guests, be sure to stay hydrated, take breaks, take deep breaths, ground yourself in the present moment throughout the day, and get as much rest as possible.
Alcohol:  Avoid consuming alcohol or other mood-altering substances while setting up your holiday decorations and festivities.
Ladders:  Read and follow labels on ladders.  This is one of the most dangerous tools many of us have.
Air Conditioning:  DO NOT run the air conditioner when it's cold outside and hot inside.  Options are to open windows and turn on the central fan, ceiling fans, and free-standing fans. Click HERE for important information to avoid damage to your HVAC system.
Windows:  Open your windows to let heat, odors or smoke out of your home.  It is a good idea to leave a living room window cracked open for fresh air with a home that's full of family.
Smoke Detectors:  Make sure your smoke detectors and carbon monoxide detectors are in place and operational.
Enjoy
The world comes at all of us at a super fast pace.  Being home for the holidays is a perfect time to slow down, create and savor the moments that make life beautiful.
From all of us at Home Run Inspections, we wish you a Happy Thanksgiving and Holiday season.
We Cover All the Bases!
Home Run Inspections, LLC
Oklahoma:  405-905-9175
Florida:  850-203-3239
Info@HomeRunInspections.com
Serving the Oklahoma City metro and surrounding areas including Edmond, Yukon, Piedmont, Bethany, El Reno, Tuttle, Mustang, Moore, Norman, Midwest City, Del City, Choctaw, McCloud, Shawnee, Harrah, Newalla, Jones, and more.
Serving the Florida Panhandle metro areas including Destin, Fort Walton Beach, Okaloosa Island, Miramar Beach, Santa Rosa Beach, Niceville, Shalimar, Freeport, Crestview, DeFuniak Springs, Panama City Beach, and more.
Schedule Your Inspections Online at:
Like us on FaceBook
Follow us on Twitter
Follow us on Instagram