Winterizing Outdoor Faucets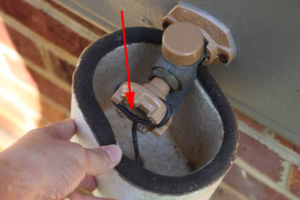 Winterizing Outdoor Frost-Free Faucets
If you have frost-free faucets, your home winterizing process is much easier. Frost-free faucets with hose bibs are a relatively new invention designed to prevent  frozen plumbing pipes during cold weather by removing water from freezing air.  They require minimal maintenance from homeowners.  But when outdoor temperatures drop below freezing on a regular basis, it's time to be thinking about Winterizing Outdoor Faucets.
Instructions:
1.  Turn off the frost-free faucet's interior valve.
2.  Remove the hose from the exterior valve.
3.   Open the faucet to drain any remaining water.
4.  Shut the faucet off.
There is no need to cover a frost-free faucet with insulation material or coverings.
If your home has older hose bibs, follow the above process but in addition, add an insulation covering (especially on walls facing the North).  These can be picked up for a couple of bucks at your local hardware store.
You might also like: Getting Your Home Ready for Winter Weather
Home Run Inspections, LLC
Oklahoma:  405-905-9175
Florida:  850-203-3239
We Cover All the Bases!
Serving the Oklahoma City metro and surrounding areas including Edmond, Yukon, Piedmont, Bethany, El Reno, Tuttle, Mustang, Moore, Norman, Midwest City, Del City, Choctaw, McCloud, Shawnee, Harrah, Newalla, Jones, and more.
Also Now Serving the Florida Panhandle metro areas including Destin, Fort Walton Beach, Okaloosa Island, Miramar Beach, Santa Rosa Beach, Niceville, Shalimar, Freeport, Crestview, DeFuniak Springs, Panama City Beach, and more.
Your Inspections Online at:
Like us on FaceBook
Follow us on Twitter
Follow us on Instagram