Old School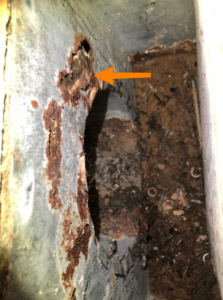 I don't think I have come across a newly built home with the HVAC ductwork, or floor vents in the concrete floor.  That's not to say builders do not do that any more,  but I think it's fair to say they avoid that practice if possible.
It was a common practice in the 1970s and 1980 to place the homes ductwork in the sand and soil prior to the pouring of the homes slab.  I actually worked for a heat and air company while in college and did several of these myself.  The system was designed to last a very long time, but even with the efforts we took, time often takes its toll on various aspects of these systems.
The Problems
The most common defect I see on "in concrete duct work" as a Home Inspector is rusted, deteriorating floor boots and poor air flow at various locations in the home.  If the problem is minor, replacement of floor boots is all that is recommended.  If most or all of the boots show deterioration and or accumulation of sand, I recommend further evaluation by an HVAC professional with a duct scoping.
With the HVAC being one of the most important systems in your home, I recommend all buyers and realtors lift up a floor register or two if they find the perfect home that happens to have in floor duct.  I inspected a home yesterday in Edmond that was built in the 90s and the boots looked like they were installed yesterday, so you really never know what you will find.
Depending on the extent of any damage found, the repairs could range from $200 to $8000.  Repairs could be as simple as replacing a couple of floor boots to having to install a whole new system, moving all the duct work to the attic or other alternative location.  There are so many different types of home configurations the solutions are numerous
Home Run Inspections, LLC
Oklahoma:  405-905-9175
Florida:  850-203-3239
We Cover All the Bases!
Serving the Oklahoma City metro and surrounding areas including Edmond, Yukon, Piedmont, Bethany, El Reno, Tuttle, Mustang, Moore, Norman, Midwest City, Del City, Choctaw, McCloud, Shawnee, Harrah, Newalla, Jones, and more.
Also Now Serving the Florida Panhandle metro areas including Destin, Fort Walton Beach, Okaloosa Island, Miramar Beach, Santa Rosa Beach, Niceville, Shalimar, Freeport, Crestview, DeFuniak Springs, Panama City Beach, and more.
Schedule Your Inspections Online at:
Like us on FaceBook
Follow us on Twitter
Follow us on Instagram