Running your home AC during the winter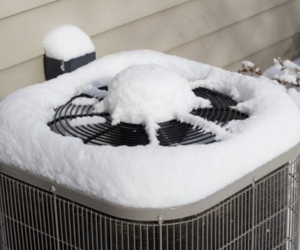 So the cold weather is here… kinda.  Even though we have officially entered winter, there are plenty of winter days here in Oklahoma that will tempt us to turn on the air conditioner.  If it is sunny and 60 outside, chances are it's heating up well over 75 in your home and that can lead to us feeling a little stuffy.   Add to that some holiday cooking, and we can see that thermostat moving quickly to the 80s.  What to do?
Well, back in the day, I know it might be hard to believe, but we would actually open the windows.  That's right kids!  We opened the windows.  I know that sounds snarky but I really think people have forgotten about this option, much to the enjoyment of your neighborhood HVAC professional.  Also, today's homes are not really designed for this.  In the early 20th century, homes were built with lots of windows and often had a "whole-house fan" that people would run, with the windows open, to keep everyone reasonably cool.  I'm always happy to tell buyers about this feature when we come across a functional unit.
So, even though we don't have as many windows, I'm recommending using them next time your home gets stuffy this winter; for the following reasons:
Compressors are designed to run in hot weather.  They are lubricated with summer grade oil.  When you start your AC in the winter you are putting a terrible strain on the compressor and likely shortening its life.  I know you don't want to buy another AC unit this spring.
Windows left shut and not operated year after year, lose their lubrication, and when I open them at inspections, the springs often do not operate.  The next time you sell a home, you are probably going to be asked to fix that.  Using them frequently will keep them functional or at least remind you to lubricate them occasionally.
Using your windows instead of your AC saves you money — immediately.  Open a couple of windows, and turn your fan to "on" at the thermostat.  It will circulate the stale air, introduce new fresh air, and cool down your home.  It will take a little longer, but you avoid risk of damage to the compressor.  Also, it is a lot cheaper to run a fan than a compressorHome Run Inspections, LLCOklahoma:

 

405-905-9175

Florida:  850-203-3239

We Cover All the Bases!

Serving the Oklahoma City metro and surrounding areas including Edmond, Yukon, Piedmont, Bethany, El Reno, Tuttle, Mustang, Moore, Norman, Midwest City, Del City, Choctaw, McCloud, Shawnee, Harrah, Newalla, Jones, and more.

Also Now Serving the Florida Panhandle metro areas including Destin, Fort Walton Beach, Okaloosa Island, Miramar Beach, Santa Rosa Beach, Niceville, Shalimar, Freeport, Crestview, DeFuniak Springs, Panama City Beach, and more.

Schedule Your Inspections Online at:

Like us on FaceBook

Follow us on Twitter

Follow us on Instagram