Should you cover your A/C unit for the Winter?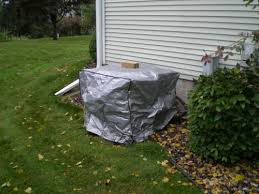 People tend to have firm opinions about whether or not they should cover their air conditioner for winter, so here's the skinny on both sides:
Benefits of Covering:
Protects your condenser from the elements
Provides cover from ice, debris, snow, etc.
Prevents your AC from getting "weather-beaten"
Benefits of Not Covering:
Deters animals from seeing your AC as a cozy, protected home for the winter
Prevents moisture from collecting inside your unit
Allows for ventilation
So how can you get the benefits of covering your air conditioner without dealing with the all of the potential consequences? One of the easiest ways you can do this is by just covering the top of your unit. Ideally, you want to prevent damage from above while also allowing for ventilation. You can either use a piece of plywood to protect the top of your unit from falling ice as well as snow accumulation, or you can duct tape a garbage bag around just the top of your system to allow ventilation from the sides as well as cover from the top.  From Arcticac.com
Remember, if you decide to cover your unit, you should make a reminder to yourself to remove the cover in the spring.  You will likely damage your condenser unit if you run the A/C with the cover still in place, obviously costing you far more than any savings reaped from the cover. You may remove power from the outdoor unit as a safety (at the home service panel, if marked, or at the unit disconnect).
Based on the information here and my personal experience, I recommend that you just leave it uncovered
Home Run Inspections, LLC
Oklahoma:  405-905-9175
Florida:  850-203-3239
We Cover All the Bases!
Serving the Oklahoma City metro and surrounding areas including Edmond, Yukon, Piedmont, Bethany, El Reno, Tuttle, Mustang, Moore, Norman, Midwest City, Del City, Choctaw, McCloud, Shawnee, Harrah, Newalla, Jones, and more.
Also Now Serving the Florida Panhandle metro areas including Destin, Fort Walton Beach, Okaloosa Island, Miramar Beach, Santa Rosa Beach, Niceville, Shalimar, Freeport, Crestview, DeFuniak Springs, Panama City Beach, and more.
Schedule Your Inspections Online at:
Like us on FaceBook
Follow us on Twitter
Follow us on Instagram