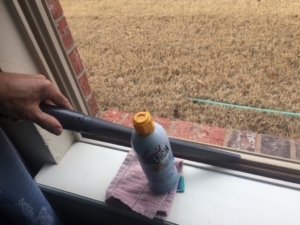 Window Maintenance
Winter is a great time to give some attention to your windows maintenance. In the long run it will save you time and money.  Lubricating the track and the frame where the sash slides ensures that the window functions properly.  Along with your garage vehicle door hinges, this should be part of your yearly maintenance.  Lubricating your windows, whether they are sliders, casements, or tilt-in single or double hung, is a straightforward task that most homeowners can accomplish.  The following are steps you can take to get the job done in no time:
Mix a simple solution of 1.5 cups of vinegar, 1 tsp of baby shampoo into about a gallon of hot water in a portable plastic container.
Have a vacuum cleaner of some sort ready to remove any debris that has accumulated over time.
Lift the window sash as you usually do to open the window.  If your windows have this feature, tilt single- and double-hung windows inward, or slide casement windows open to allow you better access to the tracks and the inner liner or frame where the sash slides open and closed.
inspect the screen for any damage and repair as necessary
utilize a nice window cleaning solution and rag to clean the window surface that is usually protected by the screen.
Wipe the tracks and window frame with a dry cloth to remove loose dust, dirt and debris or use a vacuum if there is a lot of debris.
Use a damp cloth dipped in the solution to clean away any mildew, mold, or heavy dirt buildup.
Rinse with clean water and dry with a clean cloth or paper towel.
Use a spray silicone lubricant to spray onto a dry rag or cloth.  Wipe the lubricant onto the window's track and along the jamb liner where the sash slides open and closed.  Try and keep from spraying lubricant directly onto the vinyl window. It can leave a permanent mark that you cannot remove.  Spraying directly onto the vinyl can also leave a greasy mess that is difficult to clean and ironically attracts more dirt.
Return the window sash to its original position.  If you used the tilt out feature you will have to tilt it back in before closing the window.  Open and close the window several times to distribute the lubricant evenly.
Summary
That's it! This is a good time to inspect the top and bottom window pane for evidence of a damaged thermal seal.  I assure you that this is time and energy well-spent.  Not only will this allow you to easily open windows to allow fresh air in and save money on air conditioning costs, it will help to ensure that when the time comes to sell your home, windows won't show up as a defect in your buyer's Home Inspection Report.
#windows #windowcleaning #homemaintenance #windowmaintenance #windowlubricatin
Home Run Inspections, LLC
Oklahoma:  405-905-9175
Florida:  850-203-3239
We Cover All the Bases!
Serving the Oklahoma City metro and surrounding areas including Edmond, Yukon, Piedmont, Bethany, El Reno, Tuttle, Mustang, Moore, Norman, Midwest City, Del City, Choctaw, McCloud, Shawnee, Harrah, Newalla, Jones, and more.
Also Now Serving the Florida Panhandle metro areas including Destin, Fort Walton Beach, Okaloosa Island, Miramar Beach, Santa Rosa Beach, Niceville, Shalimar, Freeport, Crestview, DeFuniak Springs, Panama City Beach, and more.
Schedule Your Inspections Online at:
Like us on FaceBook
Follow us on Twitter
Follow us on Instagram