Aluminum
Seamless Aluminum guttering is the most common type of gutter material for modern homes. You will still find Galvanized steel guttering in older homes.  If they're painted, it may be difficult to tell steel gutters from aluminum just by looking. You can tell the difference by tapping on them with your finger or by using a magnet (aluminum will not react). They're durable but not invulnerable to damage, which can include dents from hail or windblown debris and separation due to age or improper installation.
Galvanized Metal
Galvanized metal gutters are subject to corrosion, especially if debris has been allowed to accumulate. Debris holds moisture next to the metal, so watch for corrosion in gutters that have tree branches hanging over them. Corrosion often starts at the seams and spreads from there.  Guttering is designed to channel water away from your home.  Downspouts can become damaged and or clogged, causing water to build up.  This adds a tremendous amount of weight to the guttering system.  If not addressed quickly, this can lead to damage to your eaves and expensive repairs.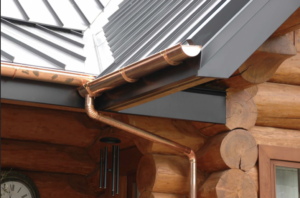 Copper Guttering
Copper gutters generally last a long time compared to steel and vinyl, but they're the most expensive type and, therefore, less common. Vinyl gutters are comparatively inexpensive and can be made to match different colors and styles. However, depending on their quality, they can be fragile, and you may find them broken or disconnected at vulnerable points in the system. They can be repaired using special adhesives, but replacement may be necessary if damage is severe or extensive.
Gutter Installation
Problems with installation range from improperly sloped gutters to gutters that are loose or poorly attached. You may be able to identify improper slope by observing standing water in the gutter, or the accumulation of sediment in portions of the gutter away from the downspouts. You can check the slope from the ground by looking at the margins between the gutter and roof or the gutter and fascia. On homes with steeper roofs, the gutters may need to be installed using standoffs to help ensure that runoff doesn't overshoot them. In areas that experience snowfall, it's not unusual to find gutters bent from sliding snow, especially on homes with metal roofs.
Home Run Inspections, LLC
Oklahoma:  405-905-9175
Florida:  850-203-3239
We Cover All the Bases!
Schedule Your Inspections Online at:
Like us on FaceBook
Follow us on Twitter
Follow us on Instagram