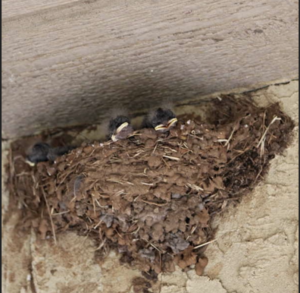 What Should I Do?
In general, the best thing you can do for a birds nest on a home is to try to minimize the disturbance—stay at a respectful distance, minimize foot traffic, door openings/closings, and postpone and projects or construction slated for the area.
If a bird is nesting in an inconvenient place on your property, remember, it won't be forever. Some species may only be there for a matter of weeks. The nesting cycle for most songbirds, robins included, is around 4 weeks from egg laying to chicks leaving the nest (two weeks of incubation, two weeks of nestlings). Try not to use the area around the nest until the young have fledged to ensure that the parents will not abandon their nest. If this is not possible, try to minimize your presence around the nest; many yard birds are tolerant of occasional disturbances.
Unless the nest is causing damage to your property or exposing  you or your family to potential disease from waste, we don't recommend that you move the nest; Birds will often abandon their nest if it is moved. Only in extreme circumstances should you consider relocating a nest, and if you do, it must be replaced very close, within a few feet of the original location.
Some people choose to put up feeders to provide an additional food source for birds nesting nearby.
What does the Inspector Say?
Most nest are not close to human traffic and are easily removed in the winter if desired.  The most detrimental nest are the mud type that Barn Swallows build, often on porches.  These birds, through beautiful, can be threatening-especially to young children.  I recommend removing these nest as soon as they are noticed.  Once established, you will have a neighborhood of "new builds" on you front porch and all that comes with it.
Any nest that is built inside of your dwelling should be removed immediately.  Left alone this will only contribute to deterioration of your home.  The nest and its occupants should be removed and access permanently sealed to avoid further intrusion
Home Run Inspections, LLC
Oklahoma:  405-905-9175
Florida:  850-203-3239
We Cover All the Bases!
Schedule Your Inspections Online at:
Like us on FaceBook
Follow us on Twitter
Follow us on Instagram