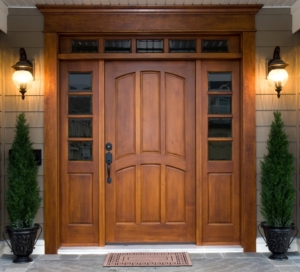 Doors and Their Maintenance

Interior Doors: Monitor the condition of your home's doors and door frames, including the interior of entrance doors and storm doors. Check their hardware for finish, wear, and proper functioning. Sticking doors or out-of-square frames may indicate house settlement, which is normal.
Exterior Doors: Exterior doors should be checked often for their condition, operation, and the functionality of their hardware. Door types include hinged, and single and double doors made of wood, steel, aluminum, and plastic with and without glazing. Monitor wood and plastic doors that are not protected from the weather. These doors should be rated for exterior use. Some homes use glass-framed doors of fixed and operable panels that have wood, vinyl-covered wood, and aluminum frames. Check the tracks of these sliding doors for dents, breaks and straightness.
Doors should also be monitored for the exterior condition of their frames and sills. Check doors that are not protected from the weather for the presence of essential flashing at the head. Over time, the interior condition and hardware of exterior doors can wear out or fail.
Garage Doors: Garage doors should be monitored for operation, weathertightness, overall condition, and fit. Garage doors are typically made of wood, hardboard on a wood frame, steel, fiberglass on a steel frame, and aluminum. Garage doors come with glazed panes in a wide variety of styles. Wood and hardboard can rot, hardboard can crack and split, steel can rust, fiberglass can deteriorate from ultraviolet light, and aluminum can dent.
Garage doors with motors should be periodically tested using each of the operators on the system, such as key-lock switch or combination lock keypad, where control must be accessible on the exterior remote electrical switch, radio signal switch, or photo-electric control switch. Check the operation for smoothness, quietness, speed of operation, and safety. Check for the presence and proper operation of the door safety-reversing device. Look at the exposed parts of the installation for loose connections, rust, and bent or damaged pieces.
#doormaintenance #garagedoormaintenance
Home Run Inspections, LLC
Oklahoma:  405-905-9175
Florida:  850-203-3239
We Cover All the Bases!
Serving the Oklahoma City metro and surrounding areas including Edmond, Yukon, Piedmont, Bethany, El Reno, Tuttle, Mustang, Moore, Norman, Midwest City, Del City, Choctaw, McCloud, Shawnee, Harrah, Newalla, Jones, and more.
Also Now Serving the Florida Panhandle metro areas including Destin, Fort Walton Beach, Okaloosa Island, Miramar Beach, Santa Rosa Beach, Niceville, Shalimar, Freeport, Crestview, DeFuniak Springs, Panama City Beach, and more.
Schedule Your Inspections Online at:
Like us on FaceBook
Follow us on Twitter
Follow us on Instagram