Overhead Garage Door Maintenance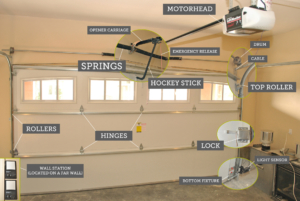 Getting Started
Stand inside the garage and close the garage door. Pay attention to all the various moving parts — springs, rollers and hinges. Note the movement of the door parts and those on the overhead track system, as well as the garage door opening system. Overhead Garage Door Maintenance is going to address all of these moving parts.
First Step
Wipe away cobwebs, dust, grime and buildup on the door hinges, springs and other moving hardware. This can be down with a broom or a specialty tool you can pick up at your neighborhood hardware store.  Climb a step stool, if necessary, to wipe away buildup or obstructions on the track system overhead, as well as on the rollers on the garage door track.  Avoid ladders since getting too high off the ground will cause disorientation.
Lubrication
Squirt small amounts of silicone spray or a couple of drops of oil into the moving parts on the garage door itself, such as the hinges, roller pin, roller mount brackets, and springs, and cable drums. Open the door halfway and repeat the process. Open and close the door a few times to encourage the oil to lubricate moving areas. Spray additional lubricant if needed. Wipe away lubricant that drips using a clean rag.
Keeping on Track
Place the step stool under one of the tracks if you cannot comfortably reach or see the inner track area overhead. Open the garage door and spray silicone lubricant into the centers of the rollers that ride on the track on each side. Next apply some silicon lubricant to the center "J" track to keep it moving smoothly.  Close and open the door several times to allow the lubricant to flow. Wipe away any drips to prevent collections of dirt and dust.
Your garage door should now be ready for many more months of smooth operation!
As with any home maintenance, always think safety.  Safety glasses are recommended as well as following safety warnings on step stools and ladders used. Refer to any owners manual you have on your Overhead Garage Door for specific maintenance tips
Home Run Inspections, LLC
Oklahoma:  405-905-9175
Florida:  850-203-3239
We Cover All the Bases!
Serving the Oklahoma City metro and surrounding areas including Edmond, Yukon, Piedmont, Bethany, El Reno, Tuttle, Mustang, Moore, Norman, Midwest City, Del City, Choctaw, McCloud, Shawnee, Harrah, Newalla, Jones, and more.
Also Now Serving the Florida Panhandle metro areas including Destin, Fort Walton Beach, Okaloosa Island, Miramar Beach, Santa Rosa Beach, Niceville, Shalimar, Freeport, Crestview, DeFuniak Springs, Panama City Beach, and more.
Schedule Your Inspections Online at:
Like us on FaceBook
Follow us on Twitter
Follow us on Instagram