Overhead Garage Door Opener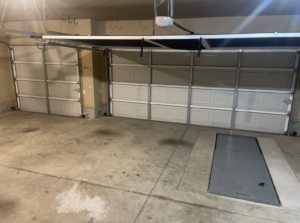 Vehicle Door Opener
Remember when you were a kid and you came and went through the front door?  Well, times have changed. Now so many of us come and go through the garage thanks to an often forgotten about convenience know as the Overhead Garage Door Opener. Like us, and everything else in your home, it too has a life span(8-12 years).
Components
Your overhead door is comprised of several different components including the motor, torsion or extension springs, rollers, roller brackets, and hinges that work in harmony to provide us access to our abode with a touch of a button. There is a trolley on the garage door opener rail that connects to the garage door itself by way of a "J" bar. It is called a J bar because it looks like the letter "J". The trolley is pulled along by a chain, screw, or belt that the motor turns and operates. components need regular maintenance to continue operating smoothly.
Contrary to what most people believe, the garage door motor does not lift the heavy garage door. Most of the actual heavy lifting comes from the springs that are connected to the torsion system. The electric power only controls how far and how hard the garage door actually opens and closes.
Wear and Tear
Torsion springs simply wear out over time. How much time? Ten thousand seems to be the magic number – that's the number of cycles the average spring will last. One cycle equals your garage door being opened and then closed. Going to work in the morning, then home again at night adds up to two cycles a day. That's not so bad if you're a bachelor hermit.
On the other hand, if your "significant other" runs errands during the day, if you have teenagers in and out of the garage, or if you have younger kids opening and closing the garage door to get their bikes and sporting equipment – you're going to burn through ten thousand cycles a lot faster. An active family could easily use up ten thousand cycles in as little as a year.
Home Run Inspections, LLC
Oklahoma:  405-905-9175
Florida:  850-203-3239
We Cover All the Bases!
Serving the Oklahoma City metro and surrounding areas including Edmond, Yukon, Piedmont, Bethany, El Reno, Tuttle, Mustang, Moore, Norman, Midwest City, Del City, Choctaw, McCloud, Shawnee, Harrah, Newalla, Jones, and more.
Also Now Serving the Florida Panhandle metro areas including Destin, Fort Walton Beach, Okaloosa Island, Miramar Beach, Santa Rosa Beach, Niceville, Shalimar, Freeport, Crestview, DeFuniak Springs, Panama City Beach, and more.
Schedule Your Inspections Online at:
Like us on FaceBook
Follow us on Twitter
Follow us on Instagram