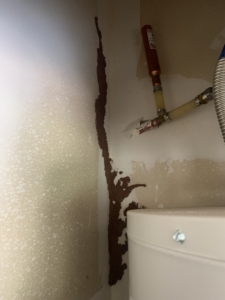 (termite tubes in a locked exterior mechanical closet)
Oklahoma Standards of Practice
As a licensed home inspector, we follow the State of Oklahoma Standards of Practice.  There is a long list of systems that we inspect and describe at a home inspection.  Covering all the bases includes the big systems you would think of like the roof, plumbing, electrical, and structure.  A good home inspector is a strong sense of curiosity along with an educator's heart.
There are a lot of things to inspect on homes that are not covered by Oklahoma's Home Inspector SOPs.  For example, home inspections do not cover (unless contracted to) termites, pool and spa systems, well and septic systems, sewer lines, and in-slab HVAC ducts to name a few.  Home buyers often want and need these systems inspected.  That creates a lot of extra work for the buyer and or their agent to make sure all of these specialists show up at the same time.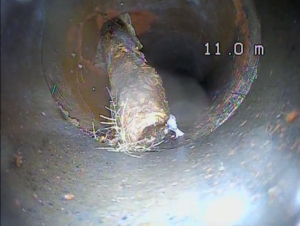 (object puncturing sewer line creating an obstruction and waste leak into the yard)
Covering All the Bases
As an business owner, I saw early on that it would be a lot easier on customers for our company to incorporate those other inspections into our Home Inspection services offered.  It's been a challenge to learn about all of these other systems. Not only have we completed the course work, but have received hands-on training from the experts.  I believe we have done a great job of becoming the  One-Stop-Shop that makes the home buying process far less complicated.
We now have the equipment to provide all kinds of inspections(cover all the bases) that you may need for your inspection.  These include pool and spa, well and septic, duct and sewer scoping, Indoor Air Quality test, and more.
Home Run Inspections, LLC
Oklahoma:  405-905-9175
Florida:  850-203-3239
We Cover All the Bases!
Serving the Oklahoma City metro and surrounding areas including Edmond, Yukon, Piedmont, Bethany, El Reno, Tuttle, Mustang, Moore, Norman, Midwest City, Del City, Choctaw, McCloud, Shawnee, Harrah, Newalla, Jones, and more.
Also Now Serving the Florida Panhandle metro areas including Destin, Fort Walton Beach, Okaloosa Island, Miramar Beach, Santa Rosa Beach, Niceville, Shalimar, Freeport, Crestview, DeFuniak Springs, Panama City Beach, and more.
Schedule Your Inspections Online at:
Like us on FaceBook
Follow us on Twitter
Follow us on Instagram