Wall Ventilation
Weep Holes on exterior masonry walls are something we look for as Home Inspectors.  I have done a fair amount of research into the topic and thought I would share my opinion.  As you probably know, all Home Inspectors have one.
So the way I look at it, if the home that I am inspecting does not have weep holes, I don't mention it.  Why you ask?  Because the solution would be both costly and, very likely, not effective.  Or worse, damaging to the home design. If you look at the diagram below you can see why.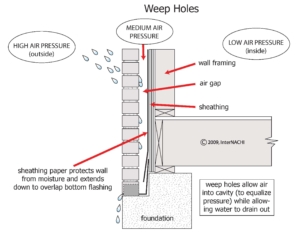 Above you see that the weep hole itself is just one element of a system.  If I were to randomly drill out some weep holes with no knowledge of where the sill plate is or whether or not necessary flashing has been installed and its location, I am probably creating more problems then I am solving.
On the other hand, if I can see that weep holes were installed and have been filled in with a material or are now below grade and need to be cleared, then I feel more confident in suggesting an improvement.
Tip-If you or someone in your new residence is not ok with a hole in the mortar even if it is for a purpose, you can insert some steel wool.  It's cheap, easy, and will still let any vapor moisture escape as necessary.  Most importantly, it will keep out the mice and spiders.
Love your home and it will love you back!
Scott Price, CPI, #1532
Certified Home Inspector
Home Run Inspections
405-905-9175
Info@HomeRunInspections.com
We cover all of the bases!
Serving the Oklahoma City metro and surrounding areas including Edmond, Guthrie, Cashion, Yukon, Moore, Norman, Chickasha, Midwest City/Del City, Bethany, El Reno, Shawnee, Harrah, and more.
Schedule Inspections Online at:
www.Home-RunInspections.com
Like us on Facebook: www.facebook.com/homeruninspections
Follow us on Twitter: www.Twitter.com/HomeRunInspect2