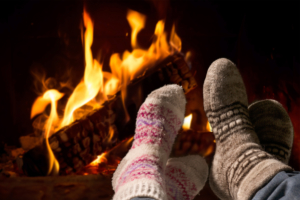 The Fireplace
I inspect a lot of homes with some sort of fireplace.  So many fireplaces today are merely decorative and can be started with a flip of a switch, but there are many homes purchased by "first time home owners" that have masonry fireplaces designed to burn "solid fuel", meaning wood logs or fire logs.  Fireplace safety should be job one before starting and managing a real wood fire. Since this seems to be a fading art, so I put together a quick list of tips for those home owners out there who are planning on starting up the fireplace this year.
Safety Tips
Never use flammable liquids to start a fire.
Use only seasoned hardwood. Soft, damp wood accelerates creosote buildup. In pellet stoves, burn only dry, seasoned wood pellets.
Build small fires that burn completely and produce less smoke.
Never burn cardboard boxes, trash, or other debris in your fireplace or wood stove.
When building a fire, place logs at the rear of the fireplace on an adequate supporting grate.
Never leave a fire in the fireplace unattended. Extinguish the fire before going to bed or leaving the house.
Allow ashes to cool before disposing of them. Place ashes in a tightly covered metal container, and keep the ash container at least 10 feet away from your home and any other nearby buildings. Never empty the ash directly into a trashcan. Douse and saturate the ashes with water.
As a home inspector, I always advise buyers to have there fireplace inspected by a professional before the first use of the season.  It only takes a minute for a romantic evening to turn into a three alarm disaster.
Home Run Inspections, LLC
Oklahoma:  405-905-9175
Florida:  850-203-3239
We Cover All the Bases!
Serving the Oklahoma City metro and surrounding areas including Edmond, Yukon, Piedmont, Bethany, El Reno, Tuttle, Mustang, Moore, Norman, Midwest City, Del City, Choctaw, McCloud, Shawnee, Harrah, Newalla, Jones, and more.
Also Now Serving the Florida Panhandle metro areas including Destin, Fort Walton Beach, Okaloosa Island, Miramar Beach, Santa Rosa Beach, Niceville, Shalimar, Freeport, Crestview, DeFuniak Springs, Panama City Beach, and more.
Schedule Your Inspections Online at:
Like us on FaceBook
Follow us on Twitter
Follow us on Instagram