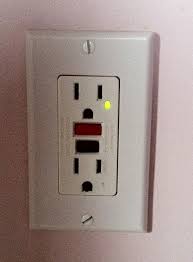 GFCIs
A ground-fault circuit interrupter, or GFCI, is a device used in electrical wiring to disconnect a circuit when an unbalanced current is detected between an energized conductor and a neutral return conductor. Such an imbalance is sometimes caused by current "leaking" through a person who is simultaneously in contact with a ground and an energized part of the circuit, which could result in a lethal shock. GFCIs are designed to provide protection in such a situation, unlike standard circuit breakers, which guard against overloads, short circuits and ground faults.
It is estimated that about 300 deaths by electrocution occur every year, so the use of GFCIs has been adopted in new construction and recommended as an upgrade in older construction,in order to mitigate the possibility of injury or fatality from electric shock.
Testing Receptacle-Type GFCIs
Receptacle-type GFCIs are designed to allow for safe and easy testing that can be performed without any professional or technical knowledge of electricity. GFCIs should be tested right after installation to make sure they are working properly and protecting the circuit. They should also be tested once a month to make sure they are working properly and are providing protection from fatal shock.
To test the receptacle GFCI, first plug a nightlight or lamp into the outlet. The light should be on. Then press the "TEST" button on the GFCI. The "RESET" button should pop out, and the light should turn off.
If the "RESET" button pops out but the light does not turn off, the GFCI has been improperly wired. Contact an electrician to correct the wiring errors. If the "RESET" button does not pop out, the GFCI is defective and should be replaced.
If the GFCI is functioning properly and the lamp turns off, press the "RESET" button to restore power to the outlet
Home Run Inspections, LLC
Oklahoma:  405-905-9175
Florida:  850-203-3239
We Cover All the Bases!
Serving the Oklahoma City metro and surrounding areas including Edmond, Yukon, Piedmont, Bethany, El Reno, Tuttle, Mustang, Moore, Norman, Midwest City, Del City, Choctaw, McCloud, Shawnee, Harrah, Newalla, Jones, and more.
Also Now Serving the Florida Panhandle metro areas including Destin, Fort Walton Beach, Okaloosa Island, Miramar Beach, Santa Rosa Beach, Niceville, Shalimar, Freeport, Crestview, DeFuniak Springs, Panama City Beach, and more.
Schedule Your Inspections Online at:
Like us on FaceBook
Follow us on Twitter
Follow us on Instagram