Carbon Monoxide Detectors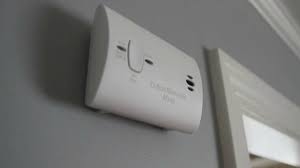 Carbon Monoxide Detectors are an important safety feature in every home.
How can I prevent CO poisoning?
Purchase and install Carbon Monoxide Detectors with labels showing that they meet the requirements of the new UL standard 2034 or Comprehensive Safety Analysis 6.19 safety standards.
Make sure appliances are installed and operated according to the manufacturer's instructions and local building codes. Have the heating system professionally inspected by an InterNACHI inspector and serviced annually to ensure proper operation. The inspector should not only look for the presence of Carbon Monoxide Detectors, but also check chimneys and flues for blockages, corrosion, partial and complete disconnections, and loose connections.
Never do this:
Never service fuel-burning appliances without the proper knowledge, skill and tools. Always refer to the owner's manual when performing minor adjustments and when servicing fuel-burning equipment.
Never operate a portable generator or any other gasoline engine-powered tool either in or near an enclosed space, such as a garage, house or other building. Even with open doors and windows, these spaces can trap CO and allow it to quickly build to lethal levels.
Never use portable fuel-burning camping equipment inside a home, garage, vehicle or tent unless it is specifically designed for use in an enclosed space and provides instructions for safe use in an enclosed area.
Never burn charcoal inside a home, garage, vehicle or tent
Never leave a car running in an attached garage, even with the garage door open.
Never use gas appliances, such as ranges, ovens or clothes dryers to heat your home.
Never operate un-vented fuel-burning appliances in any room where people are sleeping.
After Major Changes To Your Home:
During home renovations, ensure that appliance vents and chimneys are not blocked by tarps or debris. Make sure appliances are in proper working order when renovations are complete.
Do not place generators in the garage or close to the home. People lose power in their homes and get so excited about using their gas-powered generator that they don't pay attention to where it is placed. The owner's manual should explain how far the generator should be from the home.
Clean the chimney. Open the hatch at the bottom of the chimney to remove the ashes.  Hire a chimney sweep annually.
Check vents. Regularly inspect your home's external vents to ensure they are not obscured by debris, dirt or snow.
Home Run Inspections, LLC
Oklahoma:  405-905-9175
Florida:  850-203-3239
We Cover All the Bases!
Serving the Oklahoma City metro and surrounding areas including Edmond, Yukon, Piedmont, Bethany, El Reno, Tuttle, Mustang, Moore, Norman, Midwest City, Del City, Choctaw, McCloud, Shawnee, Harrah, Newalla, Jones, and more.
Also Now Serving the Florida Panhandle metro areas including Destin, Fort Walton Beach, Okaloosa Island, Miramar Beach, Santa Rosa Beach, Niceville, Shalimar, Freeport, Crestview, DeFuniak Springs, Panama City Beach, and more.
Schedule Your Inspections Online at:
Like us on FaceBook
Follow us on Twitter
Follow us on Instagram